A residential home for up to 50 disadvantaged children like Mary Grace*, many of whom have had a painful or difficult start in life, indeed for some of them Mango is the only family they have known.
Keeping children safe and secure
Working with our local partners in the Philippines, ASCF, the House is run by fully trained social workers, professional local house parents and staff who provide a safe, secure and loving environment for children aged from 5 onwards.
Education and personal life support
At Mango Tree House all of the children are fed, clothed and go to local schools or college and are looked after for all the time that they are in full time education
Children like Mary Grace* are supported in their education and their personal life. In many cases pastoral care is just as important as educational needs.
When possible if circumstances change, the children are reintegrated into their family. Children are encouraged to visit and keep in contact with family members so long as it is safe to do so.
Mary Grace has been rescued from her old life around the Dump  and now has  a British sponsor that enables her to live in a safe and secure environment with enough to eat. She loves going to school.
How has Mango Tree House changed lives?
Mango Tree House is a loving home
The current Mango Tree House with its excellent facilities was built in 2009 to replace our previous home. Children share their rooms with other similarly-aged boys or girls, with the older children supporting the younger and helping them with their studies.
An important element of Mango Tree House is helping to restore the confidence of newly arrived children, like Mary Grace, who arrived at Mango Tree House 3 years ago having lost her parents and faced further difficulties afterwards. Today Mary Grace has become a happy and sociable young girl who is living in a safe and secure environment. By the time that she is ready to  leave after  completing her education there is every reason to think that she will live a full and independent life.
Many of the children may stay at Mango Tree House for over 10 years as they grow up, leading to a real sense of community amongst the Mango children.  They are grateful for the opportunities given to them and during the recent natural disasters that have hit the Philippines have been keen to help in various community and disaster relief projects.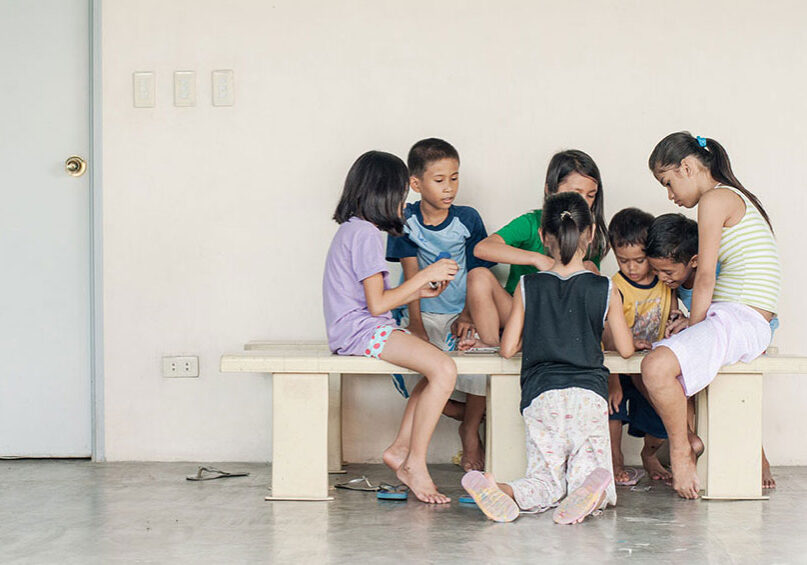 Mango Tree House has seen many examples of children like Mary Grace who have gone on to have successful careers and many of these come back later to help at Mango Tree House or our other projects, whether as social workers, teachers, or simply volunteers giving back to their 'home'. 
Your sponsorship can make this happen
It costs £80 a month to fully sponsor a Mango child through education food and lodging with full pastoral care. That's less than £3 per day.
We recognise that it is a big commitment for anyone to offer full sponsorship of a child like Mary Grace every month over the years , so you may like to share sponsorship with friends, family or work colleagues. Children of the Dump are also able to combine the support of several sponsors to ensure that children are fully funded.
£40 per month can help provide half the cost of education for your sponsored child.
£80 per month allows your child to receive a full education and to live in the safe and secure residential environment of Mango Tree House

£100 per month allows your sponsored child to receive full sponsorship and to help other sponsors who can not  commit to the full costs for 1 child
If you want to sponsor a child please 'Add a message' (MyDonate) or 'Add special instructions' (PayPal) when donating, saying whether you wish to sponsor a child under Cashew, Grapevine or Mango Tree House. If you include a phone number we can get back to you to talk you through the options for specific child sponsorship.
Any questions please email us and we will get back to you by phone or email.
For a regular donation by standing order please download our Standing Order Form below
Don't worry if you are unsure about making a long term commitment to sponsorship. You can stop your sponsorship (or change the amount) at any time by contacting Children of the Dump who will ensure that each child can continue their education.
All the Mango House children like Mary Grace have sponsors, with many supporting the same child throughout their education. Sponsors are encouraged to keep in contact with the children (but do not have to), exchanging letters and messages which is something that the children love.
Read the story of Danny Boy Lisondra, proof that Mango Tree works...
Cashew Early Years
Giving children aged 4-6 a head start out of poverty with education.
Grapevine Outreach
Supporting families to enable their children to go to school.